PUBG MOBILE Godzilla and Kong Version 1.4 for Android, download the APK here!
PUBG global new version 1.4 Godzilla and Gorilla available for everyone now on

For Android, download the APK here [

APK+OBB download link

]!
PUBG Mobile Global version 1.4 update was released yesterday i.e. on May 11. The new version of the game comes with a plethora of new features, including a new vehicle, a new shooting mode, and exclusive content related to the Godzilla vs. Kong collaboration.
Users can take advantage of the new iteration using the Google Play Store. It can also be downloaded via the APK file on the game's official website.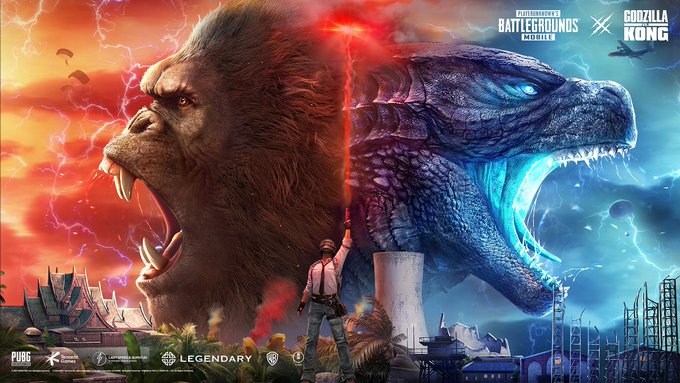 Also read - Battlegrounds mobile India listed in PlayStore | Download link
Some of the features of the new PUBG Mobile version 1.4 update mentioned in the patch note are as follows:
Titan Strikes
Titan Last Stand (May 25 - June 8)
Microcosm (June 9 - July 5)
New Arena Map: The Hangar (starts June 1)
New Vehicle: Coupe RB
New Shooting Mode: OTS (Over the Shoulder)
Gun optimization and balance
Basic Performance Improvements
Royale Pass S19: Traverse (starts May 17)
Security Improvements
New Friends Features
PUBG MOBILE Godzilla and Kong Version 1.4 Tralier





How to Download PUBG MOBILE Godzilla and Kong Version 1.4 for Android?
The good news for you here is that users do not need an OBB file to download the PUBG Mobile 1.4 version, and the APK is sufficient. Two versions of the APK are available:
The regular version has a size of 990MB, while the compact version has a size of 661MB. Therefore, users should ensure that they have sufficient storage space available.
To download and install the PUBG Mobile 1.4 update version, follow the simple steps below:
Step 1: Players must download either APK files on their Android devices.
Step 2: Once the file is downloaded, players will have to find and install it. Before doing so, users must enable the "Install from unknown source" option.
Step 3: After the installation is complete, users can open PUBG Mobile on their devices.
In the compact version, users will additionally have to download in-game resource packs. On the other hand, players who download the regular version can start playing PUBG Mobile as soon as the installation is over.
Step 4: Finally, users need to log in to their accounts and start playing PUBG Mobile 1.4.
Now enjoy PUBG MOBILE Godzilla and Kong Version 1.4 for Android, download the APK here!😀