Hello guys, we all know that there a ton of android emulators for windows, from which finding the best one is a hectic task.
Best Android Emulator for pc. But today we are gonna find out the best performing Android emulator for Windows we will decide that upon the benchmarks of Geekbench and gameplay since I have a really weak PC configuration of intel core i3 7th gen and 4GB ram only so you will get much greater results if you have a good PC.
Also read - Battlegrounds mobile India listed in PlayStore | Download link
I will just give you a general idea about the optimization of the emulators if they can run well in my system then it is really optimized for other systems too. The Emulators I chose to give a try were LD player, Menu, Nox and Gameloop.
Best Android Emulator of 2020
1. LD Player Emulator
LDPlayer basically lets you recreate the Android OS and play these games on your PC by riding on top of Windows. It is lightweight, meaning that it is not running away from system resources or takes a long time to install.
Once you do this on your machine, you can download the game from the Google Play Store or from LDPlayer's own App Store.

Right now, LDPlayer can emulate on Android 5.1 (Lollipop) or Android 7.1 (Nougat), but the company says it is constantly developing its software to work with more recent versions of the OS. Whether you are using an Intel or AMD powered computer, LDPlayer can optimize your Android gaming experience on a PC with useful gamer-oriented features.
LD player

Minimum system requirements
Intel or AMD CPU Processor x86 / x86_64

Windows XP XP3 / Win7 / Win8 / Win8.1 / Win10

Windows DirectX 11 / Graphic driver with OpenGL 2.0

Minimum 4GB of system memory (RAM)

Minimum 36GB of free hard disk space

Hardware Virtualization Technology (Intel VT-x/AMD-V) enabled in BIOS
2. Nox Emulator
Supports keyboard, gamepad, script recording and many examples. Every feature is perfect for your gaming experience. NoxPlayer, a better experience for mobile games. Suitable for games that require a higher version. If you cannot find the game in the Google Store in the above two versions, you can try using this version to play the game.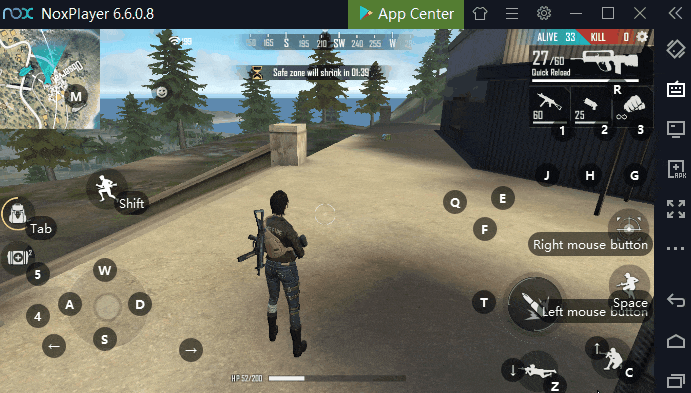 If you have enabled VT in your BIOS, then Nox App Player is incompatible with BitDefender. To install and use both on the same PC, please be sure to disable VT first.
Minimum system requirements
Nox Website
3. Memu Emulator
MEMU provides the best smart controls to play League of Legends: Wild Rift. Now it is distributing more! Say goodbye to the old messed up graphics and start playing with 120 fps peak frame rate! Professional players, do you want a great experience and want to check all the details on the battlefield? You will never want to go back after enabling this option in MEmu Play!
MEMU not only gives excellent performance, but provides stunning graphics to its users. It provides rich features including smart control, multiple-instance, macro keymapping, controller support, game automation, video record, GPS simulation, command-line script and more.
Higher Android versions require more RAM and disk space. Higher end games installed on MEMUS will require more RAM and disk space. It is not recommended to run MEmu Play in any other virtual machine software, N there is a compatibility issue then the graphics driver is eligible to update or switch the graphic card.
Minimum System Requirements
2 core x86 / X86 64 processor (Intel or AMD CPU)

WinXP SP3 / Win7 / Win8 / Win10 (not recommended to run on Server / Enterprise)

Latest Windows DirectX 11 / Graphics Driver with Open Windows 20

Hardware virtualization Technology (Intel VT-N / AMD-V) will be enabled in BIOS

2GB RAM (4GB for x64 systems)

5GB hard disk free space Download
4. GameLoop Emulator
Gameloop (Tencent Gaming Buddy) is considered one of the most advanced Android emulators on PC. It is compatible with many games and can support smooth play on low-profile computers. The best feature of this software is that it is greatly optimized, helping to install games and controls easily, high-quality graphics.
GameLoop Emulator System requirement
CPU: Double-core at 1.8 GHz from Intel or AMD.

GPU: NVIDIA GeForce 8600 / 9600GT, ATI / AMD Radeon HD2600 / 3600.

Memory: At least 3GB RAM

OS: Windows 10, 8.1, 8 and 7

DirectX: Version 9.0c

Storage: 1GB Free Storage
Discuss Best Android Emulator of 2021
So let's get started serially at first I will download all of them and install links will be in the description to give you guys a Perfect idea about the emulators, I will show their useful features. each emulator has its own special features at the end of the video I will tell you which emulators are the best for which use cases I will install geekbench 3 and run a benchmark it's scored 2511 in single-core and 6070 in multicore. I had to use geekbench 3 since GameLoop is based on Android 4.4 KitKat and KitKat doesn't support later versions of Geekbench and I couldn't even run GTA vice city it just crashed for no reason it has really poor stability and you cannot trust this for other games so let's check Memu. it has a score of 2074 in single-core and 6478 on multicore. Better than Gameloop I am using these settings as you can see on screen.
PUBG MOBILE Godzilla and Kong Version 1.4 for Android, download the APK here

Latest version Download YouTube Vanced APK [NON-ROOT]
Memu player is based on android nougat. It will support much more apps than other emulators. It also supports a high refresh rate Next candidate is LDPlayer. It has a nice clean UI and looks better than others it supports a maximum of 120 Hertz which is really amazing so Geekbench has a single-core score of 3145 and a multi-core score of 6547 LDPlayer ran GTA VC best comparing to the other 3 emulators but for some reason, my recorder froze while recording (potato pc fact ). But I assure you it performed better than others.
Top 3 Best Emulators to Play Battlegrounds Mobile India on PCs | Best Emulators
Now let's see how Nox performs it is based on Android lollipop so not very good app support. but the emulator has a lot of features too. in Geekbench it scored 3053 in single-core and 6386 in multicore .let's run GTA vice City on NOX as you can see it delivered at the really bad performance it was lagging and stuttering all over not well optimized in a word. and I tried this with a maximum setting possible,4 cores and 2GB ram in all Emulators try to avoid Nox so we came to an end let's state the final results For playing only PUBG Mobile and Call of Duty Mobile.
Tencent Gameloop should be good enough but not for anything else. it is worst among all other emulators it has a lack of features compared to others too. Gameloop takes 4th place.
Let's talk about Nox player. Nox Player takes the 3rd position it is loaded with features but not stable at all it barely could run the GTA vice city Memu player takes the second position for gamers it should be good enough. it is a really decent emulator it has high refresh rate support too – and features a lot of functions like file transfer between guest and host easily and optimized too. It is a nice emulator.
Conclusion (Final word)
But I think LDPlayer did the best, in my opinion, it delivers 120 Hertz fluid UI and the best geekbench scored among them. in gaming, it also did the best if you were looking for gaming and smooth emulator for general Android tasks like using Facebook, Messenger, WhatsApp LDPlayer is unbeatable it is the best among them it has a lot of other features too like drag-and-drop apk files, file sharing between guest and host, macro and a lot of other features so I think that should be good for today see you tomorrow.